A financial forecasting
tool for any farm.
Especially yours.
A financial forecasting
tool for any farm.
Especially yours.
Farmcaster makes it easy for you to analyse the financial performance of your farm with financial ratios and indicators.
Not sure how to interpret farm financial information? Don't worry, Farmcaster includes explanations on how to interpret the data.
Still not confident? Share access to Farmcaster with your professional advisor at no extra cost.  
Farmers have praised Farmcaster's simplicity, ease of use and clean presentation. They have found value in using it as a decision-making tool.
Financial forecasting solutions that fit you
Farmcaster is a cloud-based, financial analysis software program built on a forecasting model. The software provides farmers with a valuable collection of financial ratios, indicators, and related information that they can confidently use to analyse the financial performance of their farm. Farmcaster is applicable for use on any farm regardless of the farm's sector.
Being seamlessly compatible with AgExpert is just one of the general features Farmcaster offers. Financial and managerial benchmarking software, forecasting software, comparative analysis/scenario planning, trendline analysis, and online cloud-based data storage and access are also some additional features.
More specifically, farmers have praised the program's simplicity, ease of use, clean presentation, and found value in using it as a decision making tool. Whereas consultants found a wealth of value in the multifaceted program that offers multiple applications, for example, finance, management, human resource management, and risk.
Farmcaster calculates 19 different ratios and metrics and presents them in easy-to-understand chart format. Users can see visual trendlines, compare their performance to targets, industry standards, forecasts and scenario projections. Each ratio comes with a description to help the user with their analysis.
Forecasting and Projecting
Understanding where your farm's financial performance is heading is important. Forecasting establishes an un-biased look ahead. Then users can run 'what if' scenarios in addition to the forecasts to gain even more context for big decisions.
Reporting and Collaboration
Farmcaster delivers easy-to-read reports and visuals. Farmers use these reports to share plans with lenders, partners, accountants, non-farming family members, and other stakeholders as they see fit. Trusted advisors and stakeholders can be granted access to your farm's Farmcaster account.
Margins are tightening across all sectors of today's farming industry. Stay on top of your cash flow to manage through tight months. The more time you have to prepare for those tight months, the better. Use Farmcaster's cash flow tool to integrate production plans, sales, and expenses and determine your cash position and needs for the upcoming year. The program also summarizes the information into projected income statements and net worth statements.
Evaluating your farm's performance against its own past performance is the best benchmark out there. Seeing if trendlines are going up or down is the first step in establishing your own internal targets. In order for you to stay competitive, it's also important to know how you compare to industry standards and to other farms in Farmcaster. Comparisons to average farm performance and to top-farm performance adds valuable content for you to evaluate your farm's position relative to your peers.
Choose the features you need
Historic Analysis
Forecast
Scenarios
Targets
Financial Report
Historic Analysis
Forecast
Scenarios
Targets
Financial Report
Filing Cabinet
Benchmarking
Annual Financial Projections and Cashflow
Take control of your farm's financial future
With today's farm becoming larger in scale, complexity, and investment, the need for informed financial management has never been greater. Farmcaster will help you on your journey to improving your financial management. It doesn't matter if you are just starting your journey or if you are a financial management expert, Farmcaster will provide you with valuable context for your important financial decisions.
Know It – Farmcaster's user-friendly interface and cloud-based structure allows you to organize and standardize your financial statements and access them from anywhere. You will immediately be able to compare your farm's financial performance against the most important benchmark – it's own past performance. When you are collaborating with lenders, accountants, and other industry organizations, you will have the ability to generate professional-level reports.
Understand it – Farmcaster provides you with 19 ratio calculations with descriptions and industry standards to help you understand your position. Premium subscribers have access to an innovative monthly cashflow projection tool and the ability to benchmark performance against average and top performing farms helping you to understand the relative strengths and weaknesses of your position.
Apply it – Farmcaster's forecasting and scenario planning tool enables you to see the impact of your important decisions on your bottom line, readying you to make better decisions. Whether you are contemplating an operational change, buying or selling assets, or looking to start understanding the impact of an upcoming succession plan, Farmcaster will calculate and display your plans as they relate to your financial ratios and projected financial statements. Users have received overwhelmingly positive feedback from their lenders when they come prepared to discuss their financing needs, armed with solid projections from Farmcaster.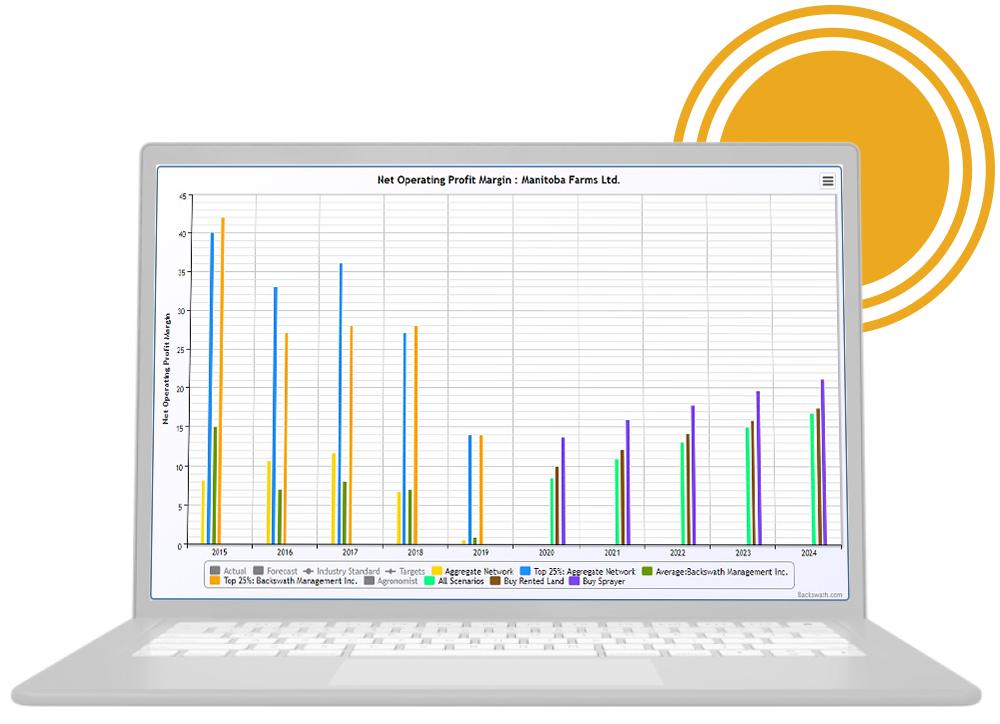 Schedule your live demo now