A financial forecasting
tool for any farm.
A financial forecasting
tool for your farm.
Farmcaster makes it easy for you to analyse the financial performance of your farm with financial ratios and indicators.
Not sure how to interpret farm financial information? Don't worry, Farmcaster includes explanations on how to interpret the data.
Still not confident? Share access to Farmcaster with your professional advisor at no extra cost.  
Farmers have praised Farmcaster's simplicity, ease of use and clean presentation. They have found value in using it as a decision-making tool.
A financial forecasting tool for any farm
Today, farmers are taking command of their finances like never before. Rather than leaving it mostly to their accountants, these farmers insist on knowing precisely where their finances are today and where they're headed tomorrow.
That's why we created Farmcaster.
Farmcaster is a financial software program built on a forecasting model. Farmers and their advisors use Farmcaster to analyze financial performance and forecast future direction using 19 financial ratios and other indicators. It's easy to use and suits any farm. You can:
Determine your cost of production – before, during and after the growing season.
Plan your crop rotation to maximize revenue and manage costs.
Track your cash flow to ensure you have money in the bank when you need it.
Run what-if scenarios to see the impact of changes in yields, prices, new equipment, staff costs and more.
Here's what one Farmcaster user had to say:
"Our farm has used Farmcaster to analyze farm financial performance for over three years. Financial ratios tell us how we're doing and allow us to improve weaknesses and leverage strengths. Tracking trends over time allows us to measure improvements in trouble spots and identify negative trends that require action. They also provide confirmation when we are making the right decisions and heading in the right direction. The visual illustrations are a helpful and easily understood way for my partners and I to look at the trends and comparisons and help us make decisions." Margaret Hansen, Woodside Farm Partnership
Fact is, when the right data and analysis goes into your decision-making, the more successful your decisions are likely to be. That gives you confidence and removes the stress and worry associated with less-structured decision-making.
Here's more detail on why and how to use Farmcaster.
Financial ratios made simple.
If financial ratios like return on equity, working capital percentage and debt to equity sound intimidating, take a look at Farmcaster. Farmcaster calculates 19 different ratios and metrics and presents them in easy-to-understand chart format. Users can see visual trendlines, compare their performance to targets, industry standards, forecasts and scenario projections. Each ratio comes with a clear description to help the user with their analysis.
What happens next? Look ahead and see.
Understanding where your farm's financial performance is heading is important. Forecasting establishes an un-biased look ahead. Beyond forecasting, users can run what-if scenarios to gain even more context for big decisions.
Keep your stakeholders informed.
Farmcaster delivers easy-to-read reports and visuals. Now you can easily share plans with lenders, partners, accountants and family members. You can even give advisors and stakeholders access to your farm's Farmcaster account.
Stay on top of your cash flow.
Farm income can be irregular, while bills and loans must be paid on time. Ever had a tight month? Of course you have. Say goodbye to the stress and uncertainty. Use Farmcaster's cash flow tool to integrate production plans, sales and expenses. Determine your cash position and needs for the upcoming year. Farmcaster also summarizes the information into projected income statements and net worth statements.
Follow your trend and compare to others.
Evaluating your farm's performance against its own past performance is the best benchmark out there. Seeing if trendlines are going up or down is the first step in establishing your own internal targets. To stay competitive, it's also important to know how you compare to industry standards and to other farms in Farmcaster. Comparisons to average farm performance and to top-farm performance gives you valuable context.
Farmcaster is for advisors, too. Here's what one had to say:
"Farmcaster was presented to our firm just over a year ago. We are very impressed with the dynamics of the program and the thought that has obviously gone into its development. Farmcaster is designed by a group that is well versed in the farming industry. They 'speak the language' and farmers are increasingly seeing the value that his program provides." D. Scott Anderson, FCGA, Anderson Strath, Certified General Accountants
Choose the features you need
Historic Ratio Analysis (19 Ratios)
Baseline Financial Forecasting
'What If' Scenarios
Financial Target Setting
Comprehensive Reporting
Inventory Management
Free Technical Support
Includes Basic Features Plus :
Cost Of Production Analysis
Filing Cabinet
Benchmarking
Enterprise Analysis
Projected Cashflow
Accrual-Based Financial Statement Projections
Take control of your farm's financial future
Running a farm today is more complex and demanding than ever. Farmcaster will help you on your journey to improving your financial management. Whether you are just starting your journey or are a financial management expert, Farmcaster tells you what you need to know to make informed financial decisions.
​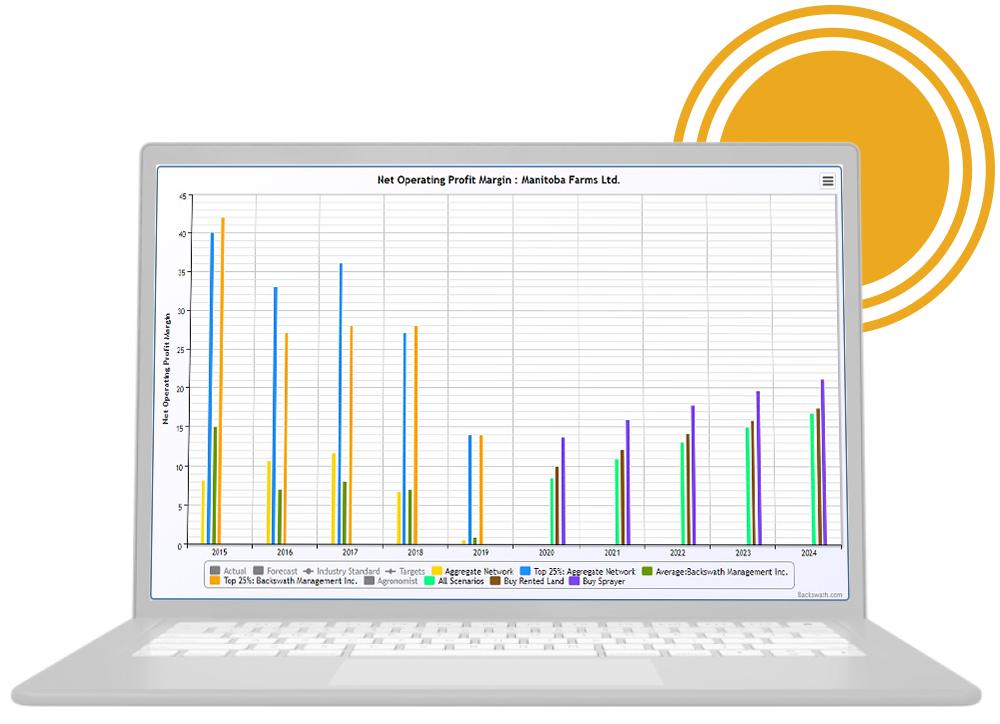 Schedule your live demo now